WD® Custom Pickguards For Gibson® S-1®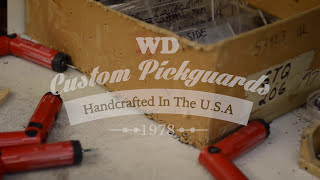 These standard model WD® Custom Pickguards for the Gibson® S-1® can be modified for any pickup or control configuration. If you do not see your specific model of Gibson® S-1® listed here, or would like additional modifications not available online, speak with one of our master craftsman directly via email at custompickguards@pickguards.com, or via phone at 800.449.9348 ext#826. Please note, our pickguard offices are open Mon-Fri 9-5 EST, all messages received after business hours will be replied to in the order they are received the following business day.
Make Selection
Name: A to Z
Name: Z to A
Price: Low to High
Price: High to Low
A Brief History:
The Gibson® S-1® guitars began production in 1974 but were not officially released until 1975. The S-1® was another of Gibson®'s attempts to take part in the single coil market (at the time dominated by Fender® Stratocaster® and Telecaster® guitars). The body of the S-1® was based on the Les Paul® and it used a bolt-on neck from the Flying V®. The S-1® was eventually replaced by the Sonex® in 1980.