WD® Custom Pickguards For Fender® Toronado®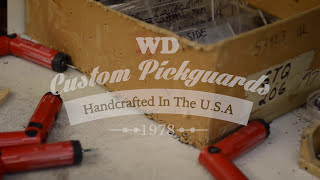 These standard model WD® Custom Pickguards for Fender® Toronado® can be modified for any pickup or control configuration. If you do not see your specific model of Fender® Toronado® listed here, or would like additional modifications not available online, speak with one of our master craftsman directly via email at custompickguards@pickguards.com, or via phone at 800.449.9348 ext#826. Please note, our pickguard offices are open Mon-Fri 9-5 EST, all messages received after business hours will be replied to in the order they are received the following business day.
Make Selection
Name: A to Z
Name: Z to A
Price: Low to High
Price: High to Low
A Brief History:
The Toronado was reissued in 2004. This reissue has several differences from '98–'03 models, featuring more modern colors like Midnight Blue, Caramel Metallic, Blizzard Pearl and Chrome Red. The pickups are also open-coil as opposed to the covered humbuckers featured on the earlier models. The 2004 models were discontinued in 2006 and are rare due to their short 2-year production span. The Fender Toronado GT HH (05–06) was crafted in Korea, sporting a mahogany body and Seymour Duncan humbuckers rather than Duncan-designed pickups. It was part of Fender's "Big Block" series.
Manufacturer: Fender®
Period: 1998-2006
Body type: Solid
Neck joint: Bolt-on
Scale: 24.75 in
Body: Ash
Neck: Maple
Fretboard: Rosewood
Bridge: 6-Saddle String-thru-body Hard-tail Bridge
Pickup(s): dual humbucker